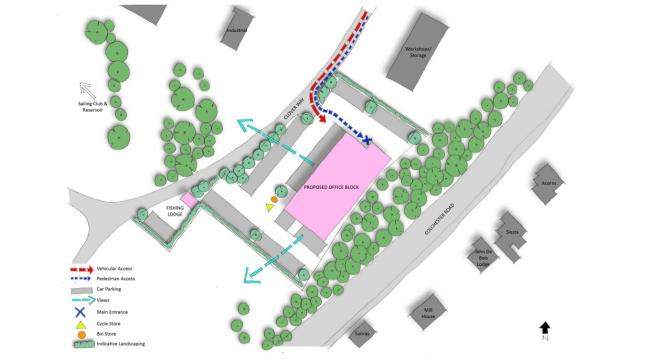 PLANS have been submitted for an office block on Ardleigh Reservoir which could see up to 75 extra workers on site everyday.
Anglian Water wants to build the two-storey office block on land just off Clover Way in Ardleigh.
The firm is planning to close down their current offices in Haven Road, Colchester, and Peartree Road, Stanway, which have 150 staff who are split between being desk-based and out on site.
A total of 53 car parking spaces would also be provided.
If given permission, the site would be close to Grade II listed building De Bois Hall was formerly part of Brick House Farm.
More than 25 objections to the plans have been lodged by nearby residents who fear the consequences of more traffic coming onto the site, and say the office block would be better suited in an area designated for employment use.
One resident who did not want to be named said: "None of the residents have had any real notification about this, there has just been a sign printed out and stuck on a lamppost down a quiet cul-de-sac.
"They are closing offices and it looks and need a new premises and have decided it will be here.
"Ardleigh Reservoir is such a beautiful place and is a haven for wildlife in this area."
Fears have also been raised about the possible industrialisation of a renowned beauty spot.
As part of the plans, a replacement fishing lodge will also be built on the site.
A planning statement prepared on behalf of Anglian Water said: "It is clear that this site represents a suitable location for employment development within the district.
"This proposal offers a means of delivering a net gain of 75 full time equivalent jobs within Tendring.
"As a result of an increased number of employees working at Ardleigh Reservoir there is the potential for an increase in money to be spent locally therefore enhancing the vitality of the local area.
"This proposal represents an entirely suitable, sustainable and deliverable development which will bring economic benefits to the Tendring."