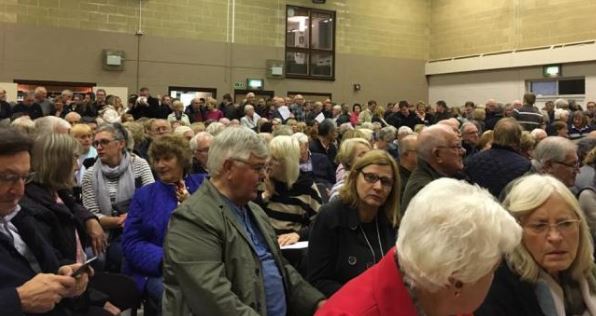 It's not just us – HUNDREDS of angry residents packed out a hall to have their say on "undemocratic" plans for 140 homes.
Gladman Developments has submitted outline proposals for the homes on land east of Runsell View and north of Maldon Road in Danbury.
But campaign group Hands Off Danbury has launched a battle against the bid.
They held a public meeting last night at Danbury Sports Centre to gather support and share their concerns over the plans.
Organisers estimate as many as 500 people turned up to hear speakers including campaign group chairman Mark Scofield, Essex County Councillor John Spence and Ian Mackenzie from Hands off Steeple Bumpstead.
Mr Scofield said: "I was overwhelmed by the support. People were queuing outside the door. I don't know exactly how many people we had but the hall was absolutely jammed.
"We are a tiny group with a fraction of Gladmans resources and it is manifestly unfair, unjust and undemocratic that we should have to do this at all."
Hands of Danbury also held a collection and sold sandwiches to help raise more than £600 towards their fight.
Mark added: "We don't want somebody coming in and telling us, using their millions, to railroad through and get their own way.
"It is now down to the people of Danbury to get their objections in and tell the council they should reject the proposals.
"I am absolutely delighted with the way it is going. I never doubted the people of Danbury – when there is a call to arms they respond."
Mr Scofield added: "We will do our very best as a community and at the end of it all and whatever the outcomes, we will be able to hold our heads high and say we fought the battle with every sinew and with dignity."
The group is also fighting against plans for a 72-bed care home on land adjacent to Danbury Medical Centre and 150 homes off Maldon Road.
To find out more about the group visit handsoffdanbury.com or email handsoffdanbury@gmail.com.
Click here to read the article on Gazette news.