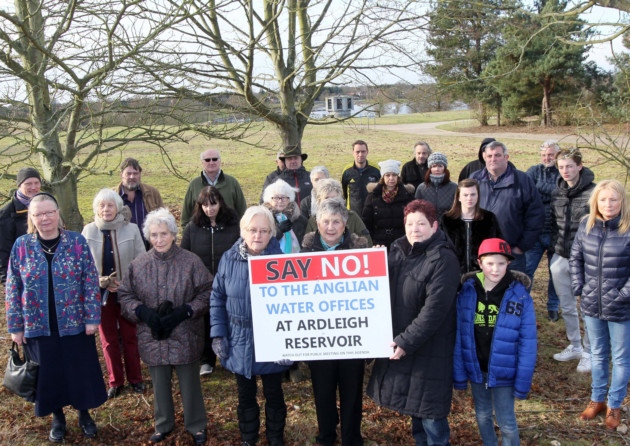 Anglian Water has submitted proposals to Tendring District Council for the development on land it owns off Clover Way in Ardleigh, next to the reservoir it manages – which is a conservation area.
But residents of Ardleigh and surrounding villages who have formed the Ardleigh Action Group said the proposals would have a dramatic impact on wildlife which uses the reservoir, as well as raising concerns over the additional traffic and negative effect on the landscape – including the loss of trees – the building would bring.
Ardleigh Reservoir is a 120-acre lake used for activities including sailing, fishing and rowing as well as supplying water to Colchester, and is home to more than 80 species of birds.
Anglian Water is proposing to build a two-storey prefabricated and flat-roofed office and relocate 150 staff to the site, along with a replacement fishing lodge.
Resident Walter MacGregor said: "We were dismayed to discover Anglian Water had made this application.
"We are at a loss to understand why they would want to move staff from commercial sites to what is essentially a country lane.
"Not only is the proposed development close to a Grade II-listed building, there are also proposals to remove trees and to disrupt an area renowned for its wildlife."
Peter Benton, another resident, added: "To be frank you would be hard-pushed to call Anglian Water's proposed building an office. Essentially they want to put a collection of cabins into a green field to allow them to centralise their services on the cheap.
"It's probably about as unfriendly to the environment as you can get."
An Anglian Water spokeswoman said: "We're co-operating with Tendring District Council's planning department and will be submitting additional information, including additional drawings of the offices and our plans for planting and landscaping the area surrounding the proposed offices.
"Anglian Water representatives have also met with Ardleigh Parish Council at Ardleigh Reservoir and attended a parish council meeting for local people to find out more about the plans and to listen to their concerns, and will continue to do this as the application progresses."
She added that the development will bring 75 jobs to the district, any trees removed would be replaced, and that ecological surveys and mitigation had been put in place.
• To get involved with Ardleigh Action Group, find it on Facebook or ring Sue Browne (07778 198118) or Janet Scarlett (07712 088815).
Click here to read the full article.