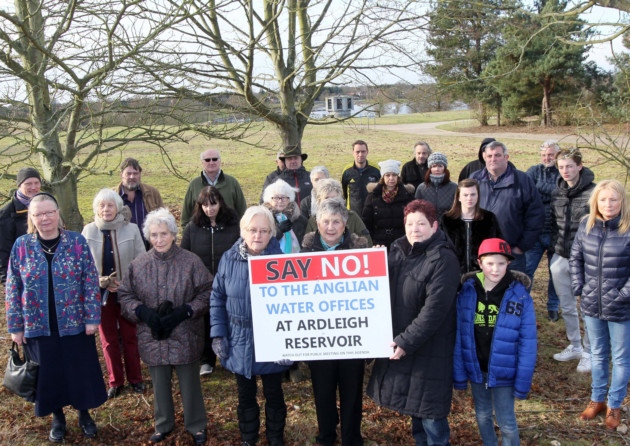 A COUNCIL leader has added his voice to village opposition for offices next to Ardleigh Reservoir.
Villagers have launched a campaign against the plans from Anglian Water and Tendring Council leader Neil Stock said the company should go back to the drawing board.
Anglian Water submitted its plans for the two-storey office block off Clover Way in September.
The company wants to close its current offices in Haven Road, Colchester, and Peartree Road, Stanway, which employ 150 staff.
More than 100 letters, emails and online comments have been sent to Tendring Council opposing the scheme.
Ardleigh Action Group is also staging events to keep people informed as the application progresses.
Opponents said the 120-acre reservoir is used for recreational activities and the area provides a perfect haven for birds and wildlife with one ornithologist recently counting more than 80 species of bird in an hour.
Resident Walter MacGregor said: "We are at a loss to understand why they would want to move their staff from commercial sites in the centre of Colchester to what is essentially a country lane on the outskirts of Ardleigh."
Fellow resident Peter Benton said Anglian Water wants to put a "collection of portable buildings into a green field to allow them to centralise their services on the cheap".
He added: "It's probably as unfriendly to the environment as you can get."
Mr Stock, who is also Ardleigh's district councillor, said he has passed on villagers' comments to Tendring Council's planning department.
He said: "It's clearly fired up people's anger and opposition. There's a lot of bad feeling.
"Anglian Water needs to go back to square one and sit down with local people and see what can be agreed."
"People are happy with the reservoir and some building but what is proposed is clearly not acceptable."
Anglian Water said before it submitted its planning application it carried out ecological surveys which showed how steps would ensure no harm to wildlife.
Any trees removed would be replaced and the proposed new offices would bring 75 extra jobs to Tendring.
A spokesperson added: "We're co-operating with the Tendring Council's planning department and will be submitting additional information including additional drawings of the offices and our plans for planting and landscaping the area surrounding the proposed offices.
"Anglian Water representatives have also met with Ardleigh Parish Council at Ardleigh reservoir and attended a parish council meeting for local people to find out more about the plans and to listen to their concerns and will continue to do this as the application progresses."
Click here to read the article on Gazetter News