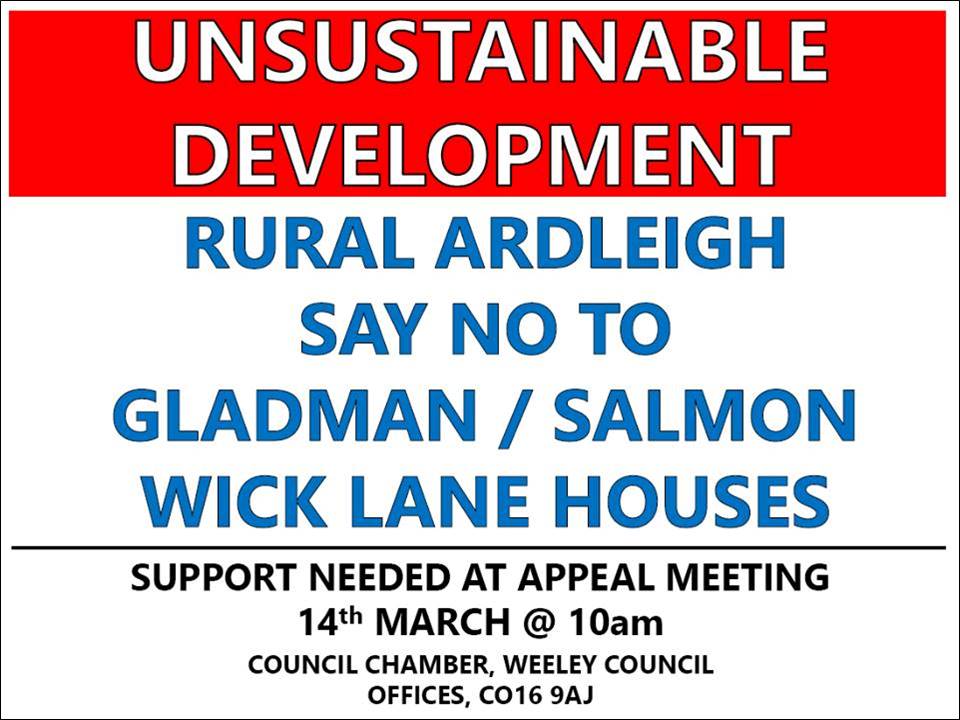 On the 14th March the appeal hearing will be heard at the Tendring council offices for the planning application made by Gladman Developments on the land off of Wick Lane in Ardleigh. This application is ridiculous for so many reasons, however due to the shortfall of land and the lack of a local plan Tendring is highlighted as an easy target by land prospectors such as Gladmans.
This issue is a nationwide epidemic with companies like Gladmans looking to turn greenfield land into building sites. Gladmans are one of the larger companies who have been very successful in converting these land types, however this doesn't mean that our cherished village and community can simply be railroaded by these outfits.
As a small group we have been doing maildrops to ensure you are well informed and have created a Web page also so you can get up to date with this any other applications that affect our village. We lobbied parliament and gained support from Bernard Jenkin MP, we also paid for individual legal advice, which in part was adopted by Tendring, and used in their refusal to Gladmans in the first instance.
The hearing on the 14th March needs to be attended by as many residents as possible, ideally a representative from the doctors surgery and the school also as much of Gladmans application is factually incorrect, if you can help on the two latter points then please let us know (enquiries@ardleighmatters.org.uk).
The Inspectorate will allow interested parties to participate in the appeal, we have many points drafted by a solicitor that will be read out on behalf of the residents, at this time it will be read by Dan Scatola from Southview on Colchester road.
In summary if you want to resist this application and protect Ardleigh from these land prospectors then show your support and confirm that you will be joining other residents on March 14th, thanks.